Salam Va Adab Khedmate Tamame Doostan.
Ye Seri Ghavanin Hast Ke Bayad Hatman Ra'ayat Beshe Vagarna Barkhord Mishe Ba User.
1- Nick Name Monaseb Baraye Khodeshun Entekhab Konan.
2- Dar Soorati Ke Ye User Bekhad Nick Namesho Avaz Kone Mitoone Az Profile Khodesh Dar Bakhshe Information
Nick Name Jadid Vase Khodesh Entekhab Kone Ta Injoori Ham Daraye Ye Usere Jadid Beshe Va Ham
Topic Ha Va Ranki Ke Dare Az Dast Nare

3- Az Dadane Reply Haye Spam Jeddan Khoddari Konid.
4- Baraye
Tashakor
Kardan Az Gozine
+
Estefade Konid.( Tebghe Axe Zir : )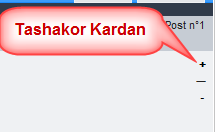 5- Mogheye Topic Dadan , Name Topic Ro Dorost Va Monaseb Entekhab Konid Va Az
Name Haye Help,bia2,help Me C#,Bia 2 Soal Daram,.... Va Hamchin Name Haei Khoddari Konid.
6- Topic Ra Dar Bakhshe Monaseb Bezanid. Masalan Topice Marboot Be Soale Barname Nevisie C# Ra
Dar Bakhshe C# Programming Support Bezanid , Na Dar Bakhshe Nimbuzz Tips & Tricks.
7- Az Be Kar Bordane Kalamate Rakik Va Napasnd Dar Topic Khoddari Konid.
8- Dar Soorati Ke Moshahede Beshe Useri Barnameye Aloode Be T(R)0(J)/-\N Dar Forum Gozashte 100% Ban Mishe.
9- Az Topic Dadane Barname Haye Marboot Be F!|ter $|-|ek@n , PR0×y Va Hamchin Mavaredi Khoddari Konid.
10- Dar Soorate Pishnahad,Enteghad Va Hamchin Mavaredi Mitavanid Dar Bakhshe Programming Feedback Matrah Konid.
11- Hengame Topic Dadan Dar Bakhsh Haye Mokhtalef Bekhosoos Nimbuzz Pc Tools , Vared Kardane
Tozihat , Screen Shot , Linke Scan Elzamist.
12- Ghabl Az Topic Dadan Kami Search Konid Ta Az Dadane Topic E Tekrari JoloGiri Beshe.
Dar Soorate Lozoom Ghavanine Jadid Ezafe Khahad Shod.
Arezooye Movafaghiat Baraye Hameye Doostan.
Csharp Team Administrator