Dorod be hamegi,
didam kheylia tu kafe ina hastan o hichki joz Spy Bot va bothaye khodam multi language va multi id nist,
goftam biyam ye hali beheton bedam HAM BE VB KARHA, HAM BE C# KAR HA
khob in Library (Pardis.dll) [hich esmi be zehnam naresid ke bezaram!]
karesh ine ke mitone ham Multi Language, Ham Multi Jid, Ham Quiz Bot bashe.
Multi Language: (YOU CAN ALSO ADD ALL LANGUAGE, THERE IS NO LIMIT FOR ADD)
man ba 3zabane ENGLISH, PERSIAN, FINGLISH mesal zadam, shoma mitonid bishtaresh konid.
Multi Jid:
khob yeki az moshkelate multi login on kardan, ine ke nemitonid addlistha va addlisthaye online ro begirid,
tedadeshon ro moshakhas konid, ya hata beheshon s2a bedid!
ke in Library hich moshkeli ba ina nadare va mitone mese aabe khordan ham addlist hashon ro begire ham group hashon ro
va ham mitone addlist ha ro tafkik kone(yani mifahme ke ye addlist male kodom bote)
Quiz Bot:
in ghablan ham sourcesho gozashte bodam!
ta yadam narafte begam ke in Library e komakie, yani khodesh id login nemikone, va hanoz be agsXMPP.dll ya sockete .NET, ya har sockete dige ei ke use mikonid,
ehtiyaj darid, man inja ba agsXMPP.dll mesal zadam
Screen az multi languagesh: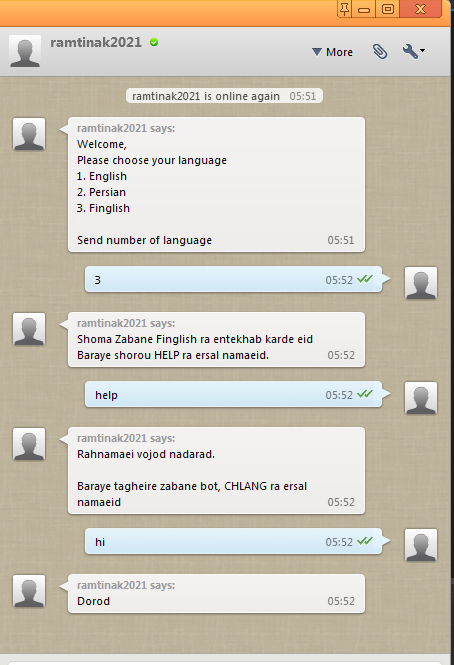 Download Project for CSharp and VB.NET