Hi

Chand Rooze Aslan Vaght Nemikonam Khoob Be Forum Beresam, Kolli Kar Rikhte Roo Saram Hatta Natonestam B4A RO Baz Konam!!

Source e Ye Daftarche Telephone Ro Amade Kardam [PhoneBook] + DataBase.

Ke Baraye DataBase Az LinQ To Sql Estefade Kardam ! Darim Say Mikonim Forum Ro Az Javve Nimbuzzi Bekeshim Biron Ba B4A ,Amoozeshe Dll Nevisi Va Be Zoodi 1 2 Chize Dige !

Baraye Shoru'e Kar Ba LinQ To SQL [ Age Alaghe Darin ] In Source Ro Amade Kardam Va Pishnahad Mikonam Download Konid.Baraye Namayeshe Data Az DataGridView Estefade Kardam, Screen :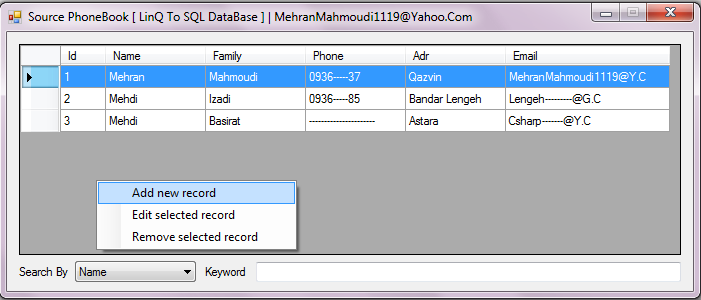 Download Link:

[You must be registered and logged in to see this link.]

By Csharp TeaM
Mamnonam Az Doostane Golam Ke Vaght Mizaran o be Soalate Bacheha Javab Midan, Ishala Jobran Konam.